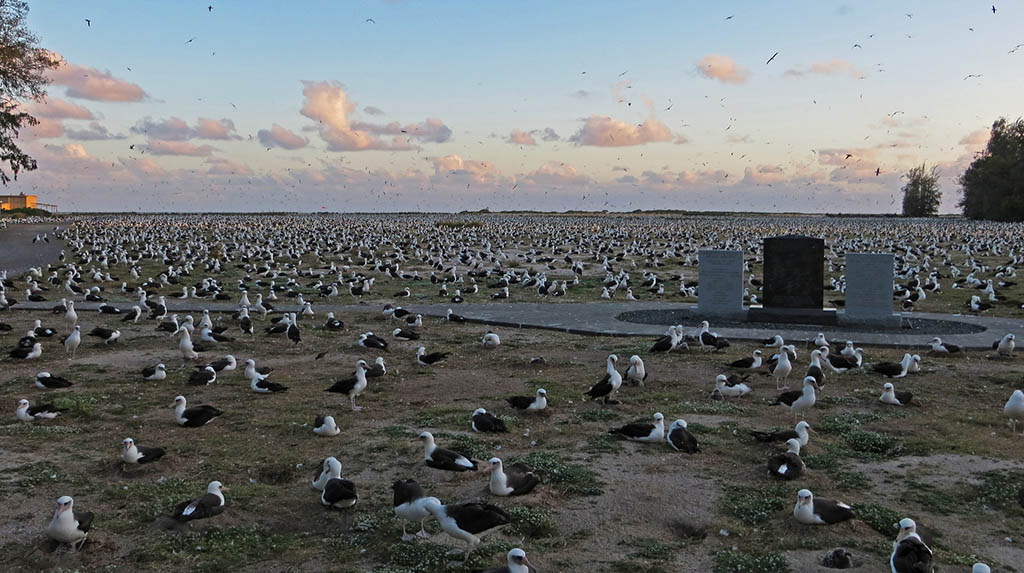 Midway Atoll National Wildlife Refuge / Battle of Midway National Memorial is a wildlife wonderland with abundant birds and marine life. Millions of birds migrate through or breed on Midway each year. The atoll is home to the world's largest colonies of Laysan and Black-footed Albatrosses. The migrations and breeding cycles of birds, seals and turtles, and flowering sequence of  the islands' plant life define the seasons on Midway.
By November, winter sets in, marked by the arrival of albatrosses and their courting antics; mating, nesting, and fledging activities last until July, when high summer begins. During their 9-month residence, they manage to occupy almost every square inch of inhabitable space; human intention offers little deterrence. During the few months when the albatrosses and other breeding birds are absent (August to October), Refuge staff focuses on needed maintenance and ground activities.
At least 20 other seabird species use Midway Atoll NWR for resting and nesting, including the federally-endangered Short-tailed Albatross and Laysan Duck. Since the 2004-2005 translocations of 42 ducks, the Midway population has risen to approximately 300 individuals. Read more about Midway's avifauna on our Birds page and individual species account pages.
Midway is not just for the birds—it's also home to the endangered Hawaiian Monk Seal, with a population of about 65 seals. In 2004, a record 17 pups were born around the atoll. In 2006, a Monk Seal on Spit Island pupped twins — a rare event! In addition to the Monk Seals, Hawaiian Green Sea Turtles bask on Midway's beaches and a resident pod of about 200 Spinner Dolphins cavort and rest in the lagoon. The coral gardens found around Midway's emergent reef support more than 250 species of fish and many marine invertebrates. Read more about Midway's Marine Life, Green Sea Turtles, Monk Seals and Spinner Dolphins.
Approximately 150 plant species occur on the atoll, but only 24 are native. Vast fields of the invasive Golden Crown-beard once blanketed the atoll. Now, after years of an aggressive eradication campaign, the Refuge has brought this species under control and reclaimed acres of important nesting areas. Learn more about Midway Atoll's plants on our Plants page.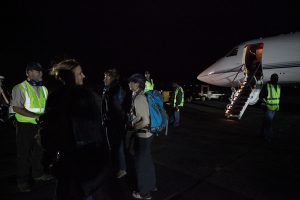 A small community of USFWS Refuge staff, volunteers and contractors live and work on Midway Atoll NWR (typically 30-40 people). These numbers pale in comparison to the heydey of the 1950s when nearly 5,000 people called Midway home during its time as an active military base. Currently, USFWS has very few employees on island: a Refuge Manager, Wildlife Refuge Specialist, and a Biological Science Technician. When feasible, 2-3 USFWS Volunteers spend up to 6 months on the atoll assisting with seabird monitoring, invasive plant removal, habitat restoration, marine debris removal, and maintenance of equipment and memorials. This remote Refuge could not exist without strong support from regional and national USFWS offices, or the work of dedicated Refuge staff in Honolulu, Hawaiʻi.
The Base Operations Support Services contractor (Defense Base Services, Inc.) has a resident staff of approximately 20-30 who keep one of the world's most remote field stations and airports functional, including: management of the airstrip Henderson Field; facilities management and maintenance (power, water, and sanitation); fuel farm operations; medical services; food and housekeeping services; and running a small store.
Midway Atoll NWR is a magical place of stunning natural beauty, abundant wildlife, and monumental history — a place to be treasured and preserved into perpetuity.