Meet Wisdom!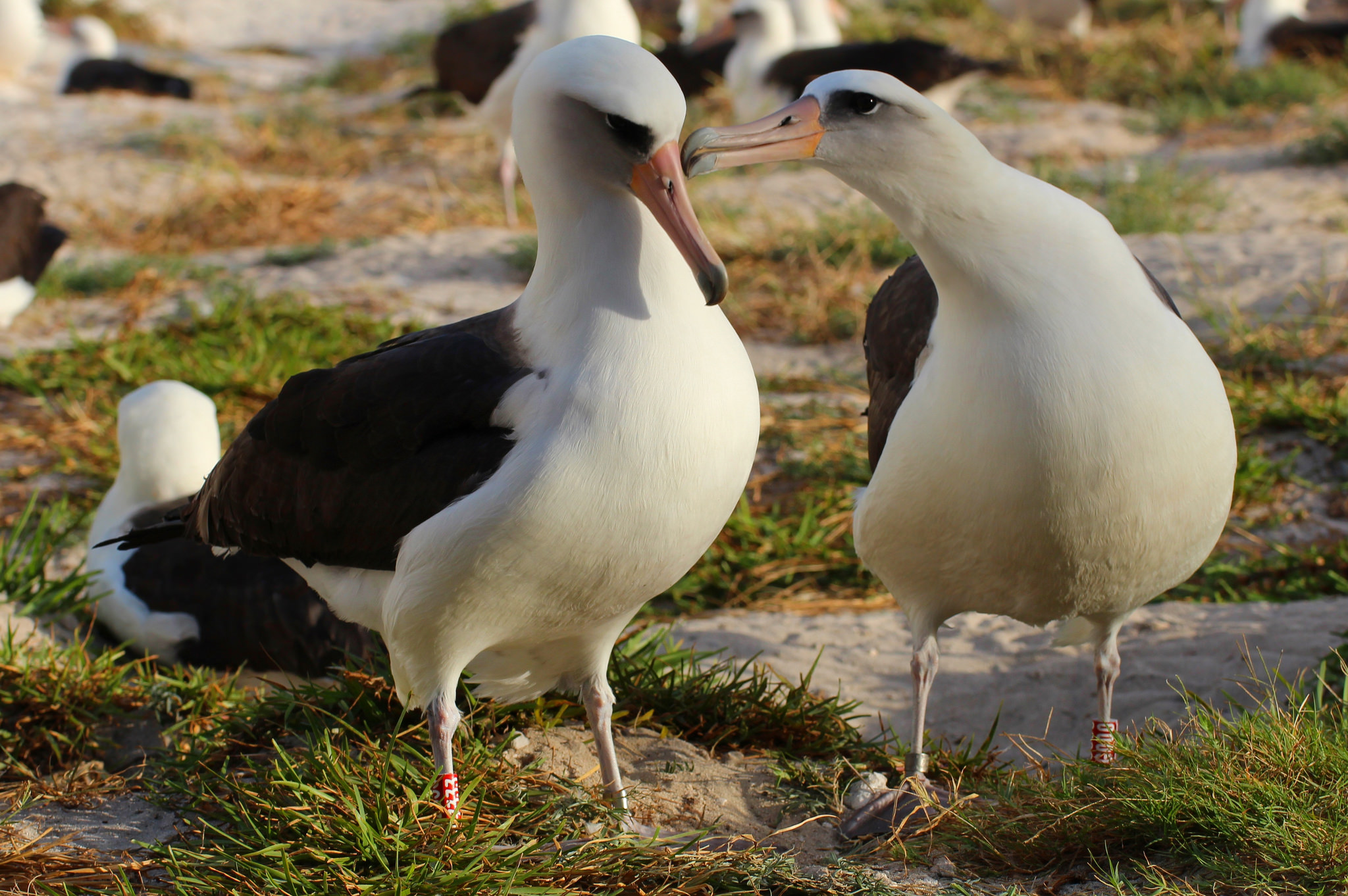 Wisdom, a Laysan albatross, is the world's oldest known banded bird in the wild and breeds exclusively on Midway Atoll National Wildlife Refuge. She was already an adult when banded by Chandler Robbins in 1956. Like many other seabirds, Laysan albatrosses delay sexual maturity until at least age five and may not breed successfully until eight to ten years old. This means Wisdom was at least 70 years old in 2021!
Her Lineage Prevails!
Wisdom and her mate have met on Midway Atoll to lay and hatch an egg almost every year since 2006. Wisdom has laid between 30–36 eggs in her lifetime. In 2017, the chick that she fledged in 2001 was observed just a few feet away from her current nest. In 2018 through every year up to 2021 her 2011 chick, identified by band number N333, was sighted just a few feet away from her current nest as well. As of January 2022 , N333 was sighted raising Wisdom's
"grandchick" 176 yards away from his grandmother's nest site!  Countless generations of albatrosses on Midway Atoll have a similar family reunion each year.  For more information and the latest updates on Wisdom, visit her official updated blog
The Man Who Gave us Wisdom: Chandler Robbins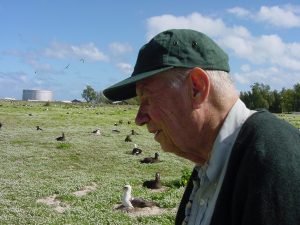 Wildlife biologist Chandler Robbins first banded Wisdom when she was a breeding adult in 1956. Banding thousands of albatrosses on Midway was part of a multi-year study designed to reduce impacts of wildlife and aircraft collisions. Robbins returned in 2002 (as a young 82-year old) hoping to find and reband some of the old-timers; the old aluminum bands often fell off after about 20 years due to salt and seawater corrosion. When he checked the bird-banding records at the USFWS Patuxent Wildlife Research Center, he struck gold; it had been 46 years since he and Wisdom first met on Midway.
Robbins and other biologists have recaptured Wisdom multiple times. In 2006, USFWS biologist John Klavitter asked Robbins where to look for the grande dame. Refuge volunteers found her right where Robbins described – near the old Navy Bravo barracks. Klavitter gave Wisdom a red band to make her easier to find and dubbed her "Wisdom."
In a 2016 interview with EarthSky, Robbins said, "I was really excited when I caught her in 2002 and found she was still alive and nesting. Wisdom and I have been having a personal race in recent years to see which of us will return each year. Last winter, Wisdom disappeared at sea before her egg hatched, so I thought I was the winner, but she came back to Midway again this winter and successfully hatched her egg so we are still tied, me at 97 years and she at least 65."
Robbins, who turned 98 on July 17, 2016, continues to give Wisdom a run for the money. He still shows up at Patuxent several days a week to work on a history of breeding bird atlases and other projects.
Read more about Chandler Robbins:
2005 USGS recognition
2012 Birding interview
2016 Living Bird article