The Problem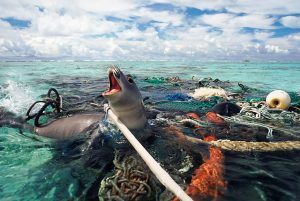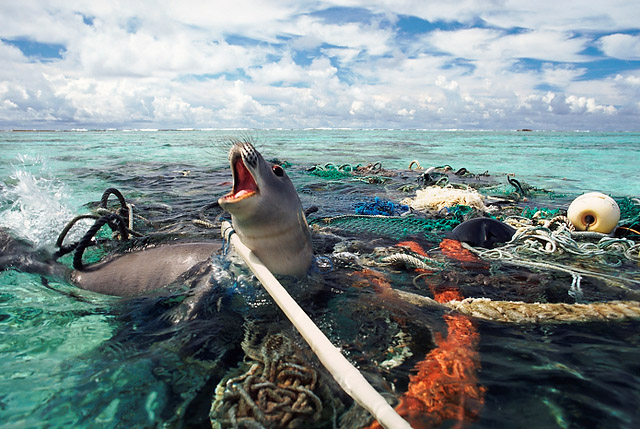 Plastic pollution has become an inescapable feature of the world's oceans – persisting for multiple generations. Since mass production of plastics began in the 1950s, the global amount of plastic manufactured has increased rapidly, with 100s of millions of tons produced each year. An estimated 10% of all plastic produced ends up in the ocean. Plastic materials now make up 60%-80% of all marine debris. Plastic accumulates and concentrates in specific zones, called gyres, due to regional convergent current patterns. The growing North Pacific gyre has some of the highest density of marine plastic reported anywhere in the world.
Exposure to contaminants from plastic pollution is one of the more significant but least understood chronic threats to marine wildlife. Once ingested, plastic can transfer chemical contaminants. Exposure can come through release of chemicals added during the manufacturing process and also from release of absorbed persistent organic pollutants (POPs) found in sea water and concentrated on the surface of plastic pieces. Plastic ingestion is an epidemic across multiple seabird species.
Past Efforts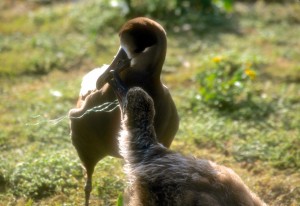 The Midway Atoll NWR marine debris coastal monitoring project focused on:
Helping monitor the types of marine debris deposited on Midway Atoll NWR's beaches
Obtaining baseline data to identify and target debris sources
Developing a solid waste removal plan to send marine debris off Midway Atoll NWR for recycling
Creating an education campaign to promote better solid waste management
Ongoing
USFWS staff, volunteers, and researchers regularly clean marine debris off of Midway Atoll NWR's beaches – check out these before and after photos!
[color-box]
Learn More About Marine Debris
[/color-box]
Watch a short video about plastic and seabirds on Midway Atoll NWR:
[youtube]XVRj0gMa_4k[/youtube]
[spacer height="10px"]
Use and Share the following resources:
This National Geographic 3-D animation video looks at how consumption of plastics has affected marine species and human health and explores possible long-term solutions.
[youtube]FjT8GG0ETQg[/youtube]
[spacer height="10px"]
Play the Game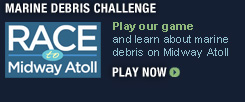 With funding from the National Fish and Wildlife Foundation, FOMA developed an interactive educational game about marine debris – Race to Midway Atoll.
The game requires two players or teams and takes about 10 minutes. Players learn how they can help prevent marine debris where they live. Six factsheets contain all the information needed to answer game questions:
Suggestions for educators and parents are in the READ ME FIRST and Education Resource Documents.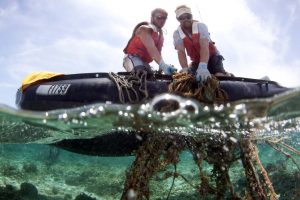 Looking for more information? Check out the following links:
Become informed. Use less plastic. Help spread the word. Do your part to protect Midway Atoll's birds and marine life.