Good morning. This is the first in a series of short blogs about the things I experience here on Midway Atoll and sometimes seemingly random thoughts.
Every morning I wake up, get myself a cup of coffee, and weather permitting, sit outside to muse.  I watch things going on around me and think, often random thoughts. I guess it's my way of connecting with nature. Plugging into whatever is out there in the air.  Usually that's wildlife but it could be anything.
By Barbara Carr Whitman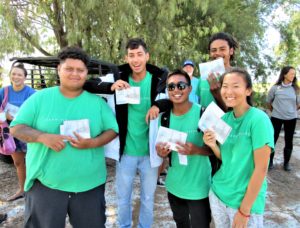 Not long ago, I was all psyched because I was going to go to the outer reef with a bunch of absolutely amazing kids taking an alternative path to their high school education, and their equally amazing leaders.
This Kupu program absolutely has me in awe.  What an opportunity they have  and how bright and interesting they are.  Sometimes maybe "not fitting in" to the average mold leads to even better stuff.  Most of them have had a hard time of it.  But this program is like a big helping hand stretched out to those who need and want it.
Okay, I was planning on going to the outer reef, the boundary of coral that defines this atoll,  with these kids and teaching them some of what I know about the marine world, which hopefully after more than four, ugh,  decades observing and studying marine life, is more than average.
I had visions of pointing out hidden animals and teaching them to listen to the sounds underwater, a highly neglected skill, as well as just looking at all the cool fish and coral.  I wanted to show them little creatures most snorkelers miss, marks made by parrotfish eating coral and crevices that noisy snapping shrimp make and live in. This is what I was expecting (below)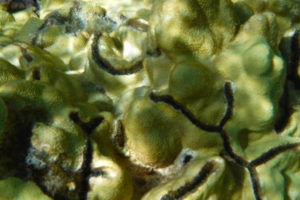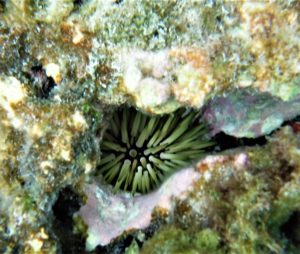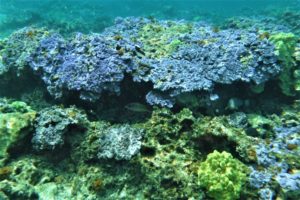 However, there was a crisis on island and a lot of us were diverted to other work.  The Laysan ducks here are at risk from botulism which raises its ugly head periodically and we were in the middle of the high season outbreak.  So off we went to look for sick and dead birds, give antitoxin to the sick and nurse them to health and remove carcasses that can spread the disease. So, this is what I got. (Below)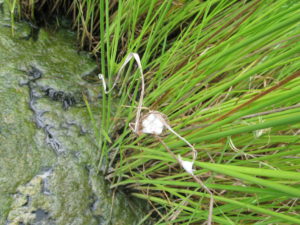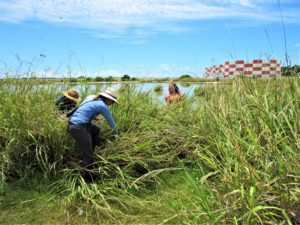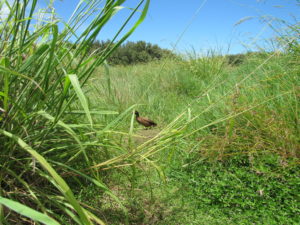 It ain't easy work.  It's hot, the sun tries to bake you, you have to find duck hidey-holes in tall dense grasses and sometimes muck through summer-hot shallow water on the edge of their pond. They are called seeps – the ponds, not the ducks. The good part about missing the snorkel on the outer reef, which is as close to mind-blowing for me as a marine biologist as it gets, is that I got in some good sweat and exercise and helped make the botulism problem a little better.
Also sometimes you find cool stuff in the weirdest places – like the little alien/baby figure – which keeps things interesting.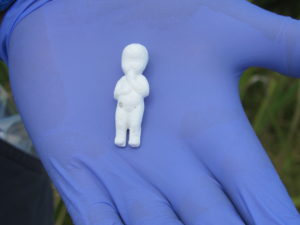 I found 2 dead ducks.  One was a small dried up chick carcass that died of something else.  The other was a disgusting liquidy pungent mass of flies, maggots and over-cooked duck that I found tucked under tall grasses that had fallen over due to their extreme height, in about 6 inches of algae-laden water. I say that with all respect to the poor duck but that's the reality of the situation.  Luckily for me, Rachel Geiger one of the volunteers out here, thank you Rachel, scooped it up in a baggie and carried the fetid mess away. She found the baby figure, too.
The sad part about missing the snorkel is that the kids, they called me Auntie Barb, had asked me if I would be with them and I assured them I would.  So when I didn't show up they were kind of disappointed. (Although they didn't know they would have had to endure my funny but pretty lame jokes.)
PS  The next day, those of us that had missed the reef trip were taken out on a special trip as a thank you for dropping everything to help with the ducks!