Midway Atoll's volunteer community lost a beloved and valued member on March 26 with the passing of Shirley Doell (right).
Shirley's deep-seated love of the ocean and its winged inhabitants started young. Her sister Kerstin recalls, "She learned to sail as a kid on San Francisco Bay in El Toros and our family's Santana 22." She crossed many open ocean miles with her father and step-mother on the yacht Muav (which would later become her home). In describing her fascination with albatrosses, Shirley wrote, "I have been a sailor almost as long as I have been watching birds, and my main experience with albatrosses is watching them fly effortlessly by while crossing oceans in small sailboats."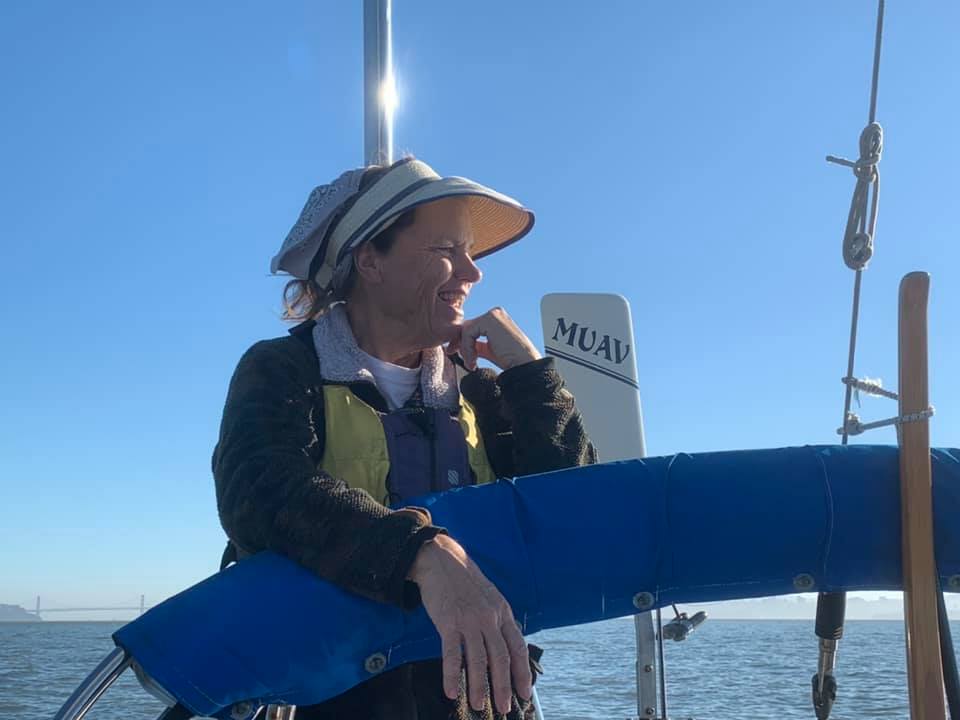 She began her volunteer work at Midway in 2013 as a member of the annual albatross nest counting team. Long-time friend and nest count project leader Jill McIntire remembers that Shirley "Jumped in with both feet," and was soon "promoted" to the position of team leader.
In looking back on Shirley's many contributions, Fish and Wildlife Service biologist Beth Flint writes, "I first met Shirley in 2013 when she joined the Midway Albatross Count Team for the first time. She quickly demonstrated what a collegial, competent, and hard-working team member she was. In reviewing our correspondence from the last 7 years I was reminded how integral Shirley had become to every aspect of managing the count."
Shirley brought her keen analytical mind and systems-thinking approach to the project. She quickly recognized ways to enhance nest count protocols and devised methods to improve data collection, incorporate GPS technology, and develop training videos for novice counters to introduce them to count techniques.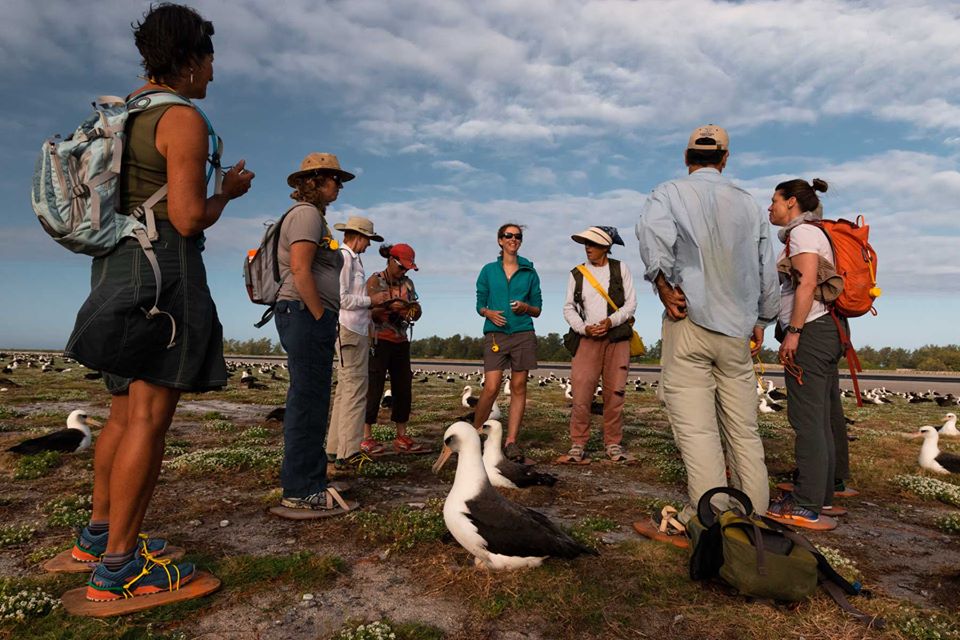 As Midway's burgeoning Bonin Petrel population and its nesting burrows made moving through the albatross colonies more challenging, Shirley also helped pioneer the design and use of "burrow shoes" for nest counters. Now a standard feature of the nest count, the snowshoe-like burrow shoes minimize impact on the petrel burrows as counters move through the colonies.
A passionate naturalist, Shirley also recognized the critical information that albatross bands could provide. During the winter nest counts she spent any spare time in the colony, searching for unusual bands and helping identify and replace worn bands that might otherwise be lost. In a note to friends and fellow nest counters Bob and Bettina Arrigoni she wrote, "The thought of all those birds, banded 20 or so years ago, dropping the corroded, weakened bands and becoming unidentifiable is a grim one."
Beth Flint notes that Shirley's tenacity in finding and helping replace worn bands  helped contribute to critical data sets: "Her keen observations of Black-footed and Laysan Albatrosses banded many years ago whose worn bands needed replacement increased the sample size that will be available in the future for documenting these species' longevity."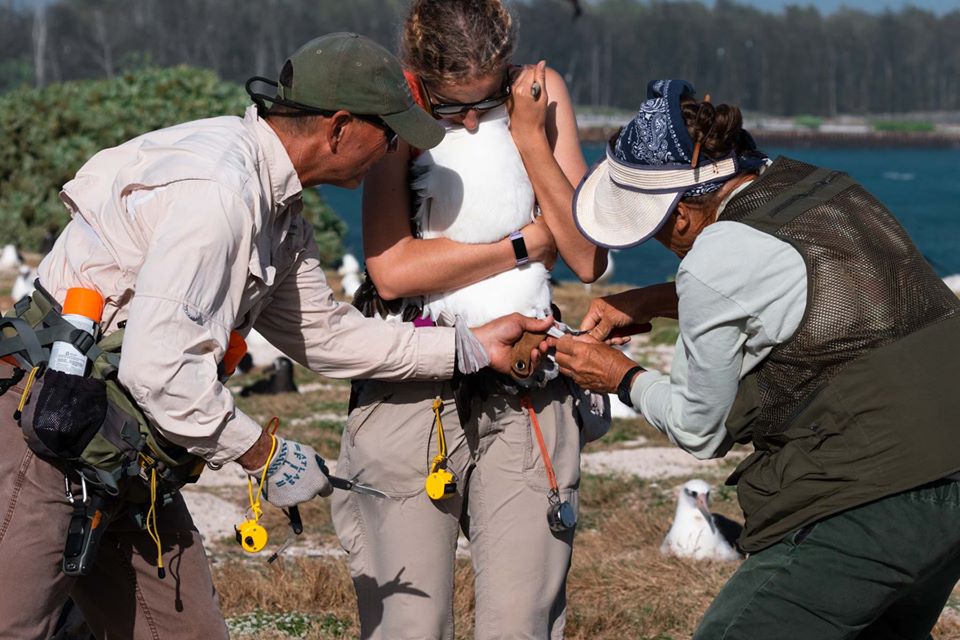 Shirley's sharp eye also turned up some unusual findings. Says Beth, "She re-sighted many birds during her visits to Midway and those observations contributed materially to albatross science. She documented two birds banded in the Ogasawara Islands at Mukojima now breeding at Midway, and found birds banded at French Frigate Shoals that had moved to Midway. She corresponded with scientists in Japan and from Harvard who included her sightings in their scientific papers."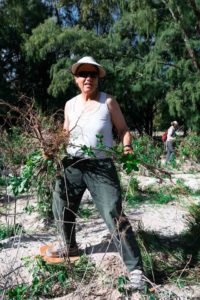 Beth also recalls Shirley's tireless work during a year when it fell to handful of volunteers team leaders to carry out the count on their own. "During the count that was to start in December 2017, when we suddenly lost our flight contract and were forced to abort the count, Shirley was part of the elite group of crew leaders already out on the island that finished the entire Black-foot count on their own and sampled the Laysan Albatross population. This provided a scientifically credible estimate of Laysan Albatross populations and another direct count of the Black-footed Albatrosses at Midway to continue the time series that we otherwise would have lost. These two populations are the most important ones on earth right now because they are a large proportion of the whole and because we can monitor them."
Away from Midway, Shirley dedicated each spring breeding season to monitoring peregrine and golden eagle nests throughout the Bay Area, including a pair in her neighborhood. Reporting on her local pair, she wrote: "I'm busy watching the peregrines and already have two early pairs incubating. The local falcon finally has a gal who will stay with him, so I'm very happy to have a nest very near me in the Richmond Harbor. Those peregrines are adaptable to the urban environment, all right!"
Typical of her "can do, will do" approach, Shirley and her partner Ron Byrd — over the initial objections of her neighbors — built an osprey nest platform at the marina where she lived on her sailboat. Says her friend Jill, "Once an osprey pair moved in, the entire marina community adopted them. Shirley turned her whole neighborhood into bird lovers."
Shirley paid her own love of birds forward by gifting a substantial donation to the Friends of Midway Atoll. These funds will help support the annual albatross nest count for seasons to come by covering equipment and other count-related costs that volunteers would normally have to pay out of pocket. She recognized the critical role of the nest count in tracking the health of Midway's albatross population, and her gift will help ensure the continuity of this important project.
In her signature head bandana and flip flops, Shirley lived life on her own terms, from choosing a simple lifestyle that left time to follow her sailing and birding interests, to her final days. When the complications of cancer and its treatment slowed her and she recognized that she would soon not be able to live independently on her sailboat or follow her passions, Shirley chose to end her life through California's End of Life Options Act.
Her farewell note to friends and family typified her analytic and no-nonsense approach to life—and a reminder to all of us to find meaning in our days. Wrote Shirley: "It seems like such a crazy time to be exiting the world, with this huge pandemic going on. I can only hope that soon there will be more attention paid to scientific and evidence-based policy-making. It's my hope that we haven't gone too far down the other path. My best wishes for everyone's path to be fulfilling."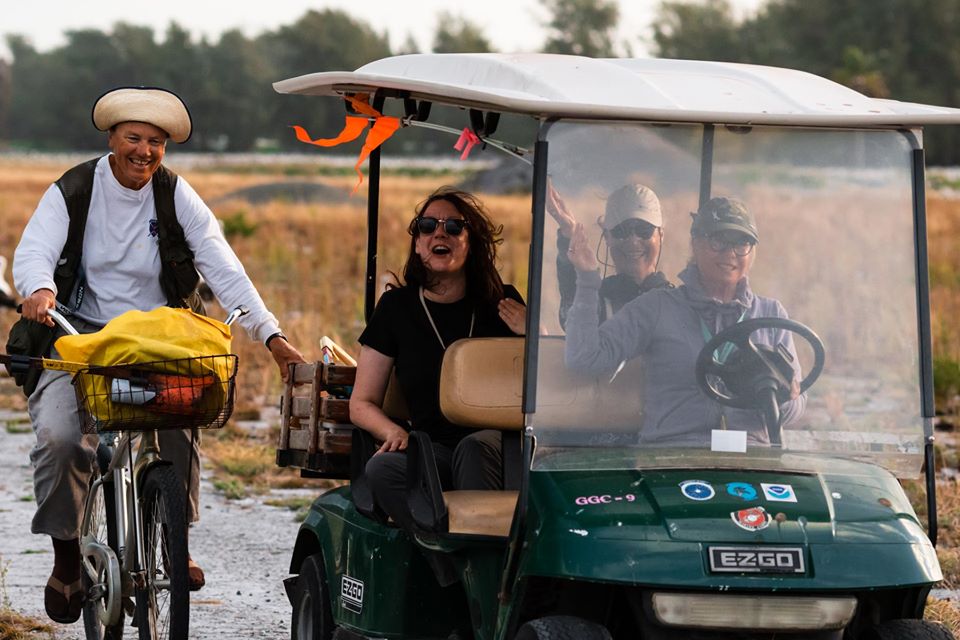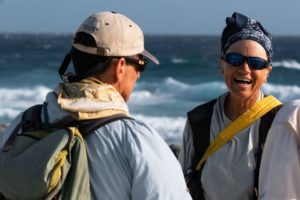 Fellow albatross nest census volunteer Jenny Johnson's thoughts reflect the feelings of all of us lucky enough to have known and worked with Shirley: "We will so miss Shirley on so many levels…her amazing mind, her strength, and now her incredibly brave goodbye. She was in control at all times as she led her life down a path that she carved out so beautifully. We won't forget her."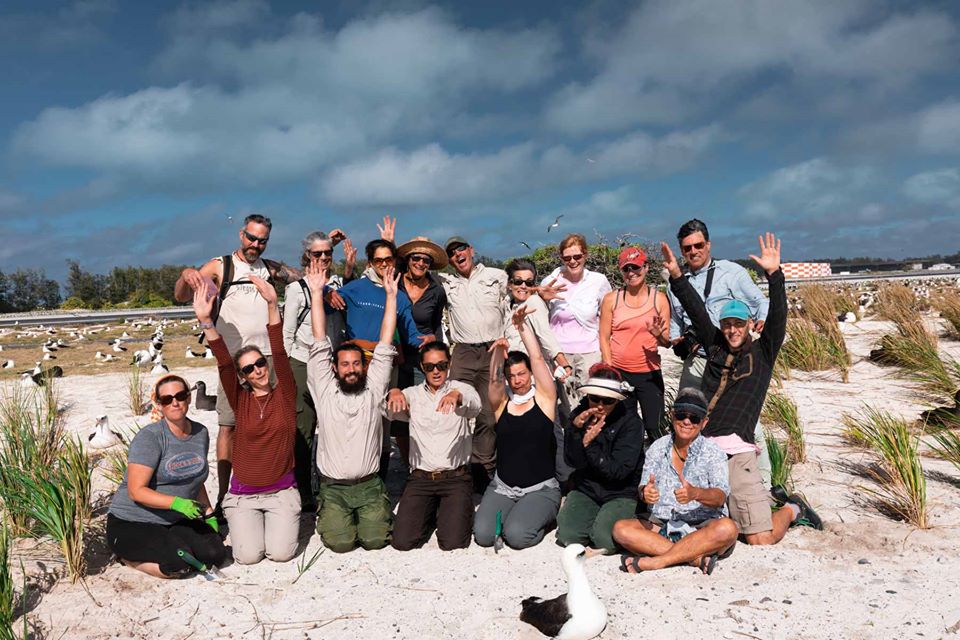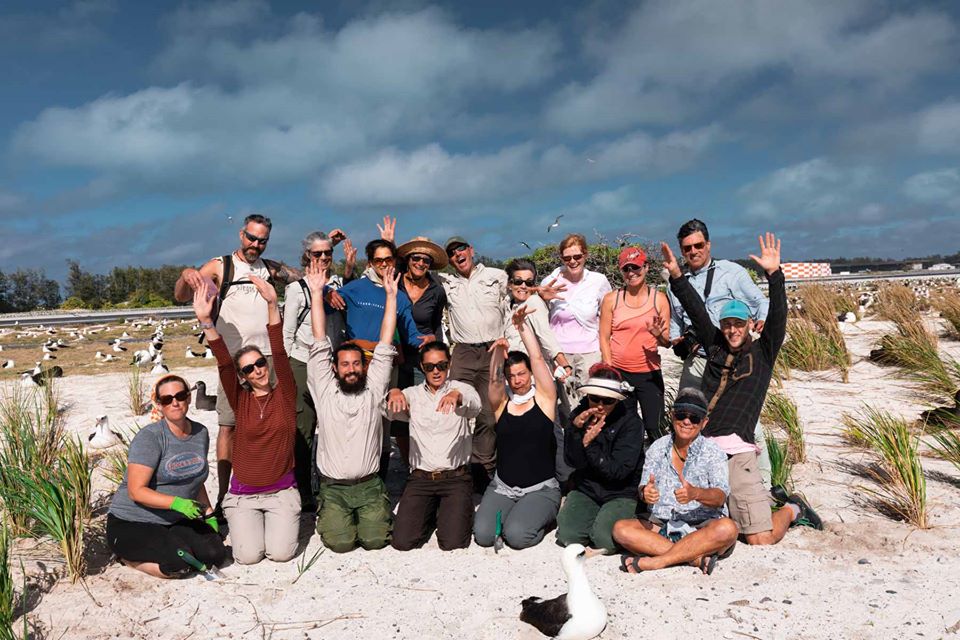 In a show of solidarity support for Shirley and her love of seabirds, one can make a contribution to the Friends of Midway Atoll on behalf of Shirley Doell at Friends of Midway Atoll, 17 Katrina Lane San Anselmo, CA 94960 or electronically submit your donation at: http://friendsofmidway.org/membership/ 
Tribute written by volunteer bird counter, Martha Brown