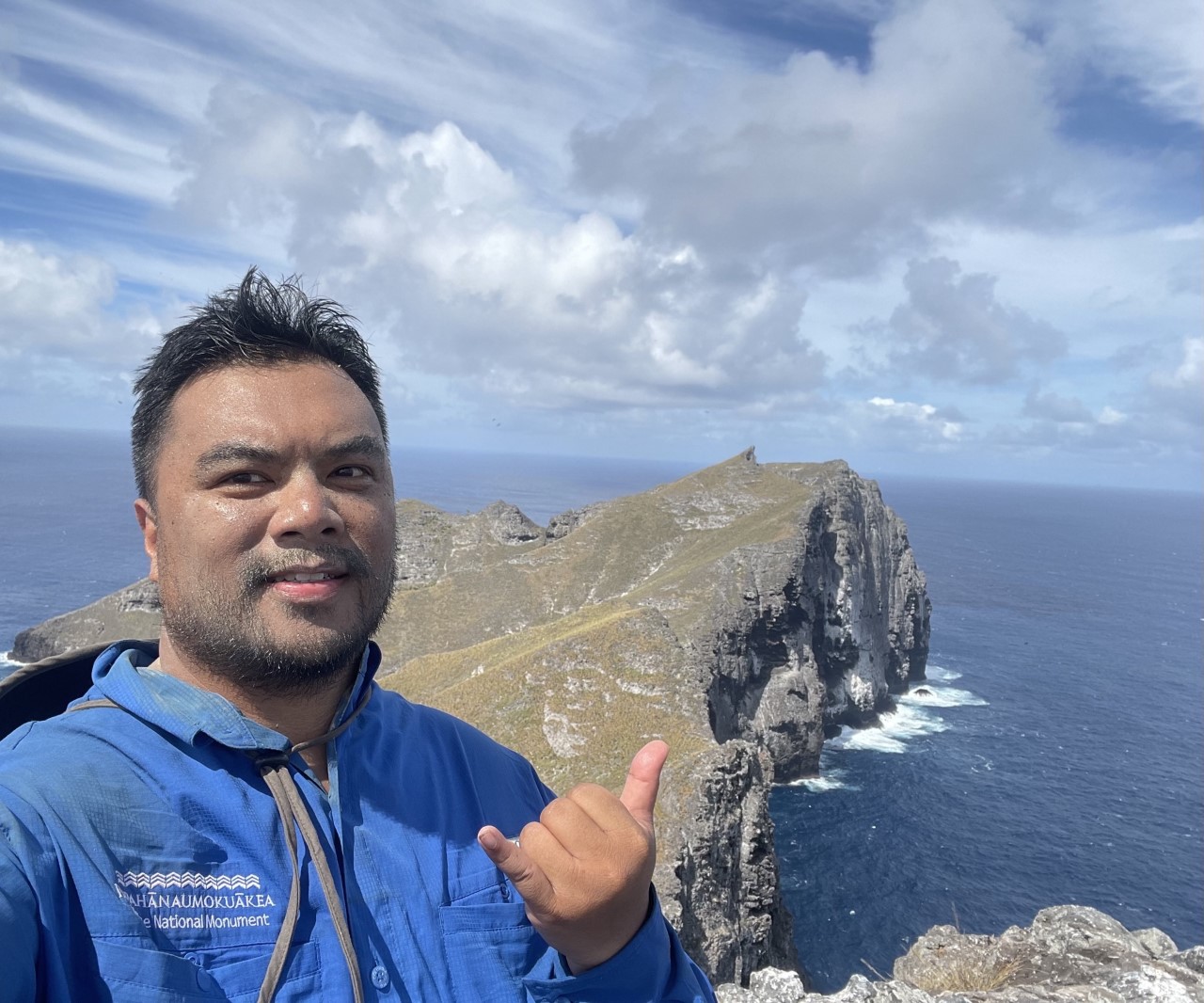 Aloha kākou (aloha everyone)! My name is Eldridge Naboa and I am the new Deputy Wildlife Refuge Manager for Midway Atoll National Wildlife Refuge and Battle of Midway National Memorial. I started this position in January 2022 and have already begun supporting the staff and personnel with my leadership style of leading with aloha. My role includes assisting the Refuge Manager, Pamela Repp, in managing a large and diverse group of people with safety, security, and wellness as priorities; providing logistical support as supplies and personnel must be flown or shipped to Midway; working with a variety of partners, such as the U.S. Coast Guard, National Oceanic Atmospheric Administration, Department of Defense, and Federal Aviation Administration; and, ensuring the biological and historical resources are cared for and cultural connections are shared.
I was born and raised in Nāʻālehu, Kaʻū on Hawaiʻi Island and graduated from Kaʻū High School in 1996. I attended the University of Hawaiʻi at Mānoa, where I earned a Bachelor of Arts degree in Zoology in 2002. In my spare time, I enjoy being active: hiking, running, biking, and swimming, and have participated in many race events including the Honolulu Marathon. I also enjoy traveling; the best trip ever was visiting the Okavango Delta in Botswana!
I have worked in the field of conservation biology in Hawaiʻi for almost 20 years which has strengthened my existing passion and commitment to our natural and cultural resources. Prior to this position, I worked for the Pacific Islands Fish and Wildlife Office in Ecological Service for four years as a Fish and Wildlife Biologist on the Hawaiʻi Island and Maui Nui team, based in Hilo. I have a deep connection with our native Hawaiian forests and the many beautiful native Hawaiian forest birds that call them home. I also have a strong connection with sea turtle conservation as the endangered honu ʻea (hawksbill sea turtle) nests along the southeast shores of Hawaiʻi Island where I own a home. Additionally, I value outreach and education and I am looking forward to exploring ways to incorporate these practices in my new role here at Midway Atoll National Wildlife Refuge and Battle of Midway National Memorial!
Mahalo (thank you)!
Eldridge